Title. Killing keeps going on.
Killing on the earth keeps going unabated and there is no hint that murdering is going to stop.
In this article below and other the groups talk about their Allah will give them victory and with Allah they will wipe out their enemies and  making sure Allah does it,  people themselves are busy killing in the name of their Allah.
If groups had the technology they would put the world in fear because they would simply kill millions of people till they became victorious.
These groups, Terrorists, ISIS, give their members a special place if they are killed, martyred they say Allah would give them a special place in paradise.
To me the interesting point is what Allah are they talking about.
The God I serve and the God millions of people follow is about so traits of God are truly a picture of the living God a God, Jesus, Holy Spirit. God has a Kingdom right now as we live. A Kingdom who has a foundation fulfilling all of God's Traits such as Pure, Peaceable, Gentle, Kind, Mercy, Open to Reason, Goodness, Compassion, Cares about you, No uncertainty, no insincerity,  Kindness and the list can go on.
Murdering, killing, Slaughtering is mankind's way of looking after themselves. That is countries are trying to claim land and doing it they are slaughtering millions of people. The leaders themselves  amass wealth.
The people on the earth are neglecting the God we as a Christian follow.
God has said we should follow the true God and do what he wants you to do. God's, Jesus greatest instruction is for people to treat other people as they themselves would like to be treated.
God has also told all people on the earth when they live their life they will eventually die and when they die they will front up to God and they will give and account to the living God.
Needless to say people here are treating their life as though there is no God. God has warned people do not  treat me as though I do not exist. I am a living God and I have told you how to live. It will happen and you will stand before the living God the living God you said does not exist.
So people are tricked by God's adversary we know as Devil, Satan, Lucifer. Many groups clearly embody true evil. Many people are showing absolute disregard for how people should be living on the earth. In fact their Father is God's Adversary and the groups are trapped into evil. Once the people die it does not matter what they have done on the earth all the things on the earth will be gone. They will not be killing. They will not be amassing wealth. They will not be stealing. They will not be thinking how great a life they had, because they life is gone, their body in the grave and the real person will be in either Hades or with God, Jesus Christ in the kingdom of God that Jesus spent his life telling people about full of God's Traits  such as Pure, Peaceable, Gentle, Kind, Mercy, Open to Reason, Goodness, Compassion, Cares about you, No uncertainty, no insincerity,  Kindness and the list can go on.
When you look at God's traits it is clear, absolutely clear the world does not follow God's Traits at all. The world does the opposite to what God wants.
We know the world acts as though there is no God, in fact mankind, people is busy trying to prove God does not exist, even though the evidence that a living God exists is in our, peoples faces, Universe, Earth, Mankind and so on. It is truly a fairy tale to try to say the universe and mankind came into existence by chance. But God has already shown us that mankind prefers a lie to the truth. As God has said to many people they worship a stone, they say to the stone help us, the stone cannot walk or talk, yet people despite the evidence still say the stone is helping them and God has said, people a deluded in their mind and believe what is not real. We see that even today 2014.
Fortunately many of us serve the living God and the Christian Bible has been given to us so that we can know about the living God. Jesus himself stated salvation came from the Jews. The Jews were given a head start God made the Jews a wonderful promises but they would not obey the living God. Amazing but true. Jesus warned them the they will lose the Kingdom of God and that is exactly what has happened. We as Gentiles now lead people to the living of God and millions of people are now rushing into the Kingdom of God.
Do look at my manuscript,    www.revelationyoucanunderstand.com
God has warned in Revelation there will be a time they will give an account to God and they will give an account of what they did.
So there is no way people will escape the judgement of the killing they carried out on the earth.
The only way to escape God's judgement is to confess to Jesus and change your way.
Next time
Cheers
Hendrik
Source
http://www.theguardian.com/world/2014/nov/16/obama-confirms-death-peter-kassig-aid-worker-hostage-isis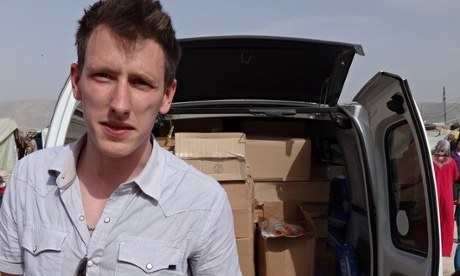 Peter Kassig in front of a truck on the Syrian border, between late 2012 an
President Barack Obama on Sunday confirmed the death of Peter Kassig, the American aid worker who was held hostage by Islamic State (Isis) militants in Syria.
A video was released earlier in the day, seeming to show Kassig's head at the feet of an Isis militant. Administration officials spent Sunday examining the video.
In a statement that referred to the name the Indiana native adopted after converting to Islam while in captivity, Obama said: "We offer our prayers and condolences to the parents and family of Abdul-Rahman Kassig, also known to us as Peter. We cannot begin to imagine their anguish at this painful time."
Secretary of state John Kerry also released a statement. "During [Kassig's] time in captivity," he said, "his family, and the entire government, including his home state Senator Joe Donnelly, worked to avoid this tragic outcome.
"His mother's searing plea directed to his captors is unforgettable. The fact that her appeal went unheeded is only further testament to the wicked inhumanity of the [Isis] terrorists who have taken her son from her."
Obama was speaking to reporters aboard Air Force One on his return from the G20 summit in Brisbane, Australia. He praised Kassig as a humanitarian killed "in an act of pure evil" by Isis. The president said the group "revels in the slaughter of innocents, including Muslims, and is bent only on sowing death and destruction".
The video was released by al-Furqan Media, which is controlled by Isis. It showed a man who looked and sounded like a British-accented fighter seen in other such videos, standing over what appeared to be Kassig's severed head. The video also contained footage of what appeared to be the beheading of several captured Syrian soldiers.
On Sunday, Isis claimed to have carried out a suicide bombing at Baghdad airport in Iraq. Five people were wounded.
Kassig, a former army ranger who served in Iraq before returning to the Middle East and founding a humanitarian group, was captured in October 2013.
"These were the selfless acts of an individual who cared deeply about the plight of the Syrian people," Obama said.
He is the fifth western hostage to be killed by Isis. Two American journalists, James Foley and Steven Sotloff, and the British aid workers David Haines and Alan Henning, were the others to be killed.
A British journalist, John Cantlie, is believed to be being held by Isis, who also hold a 26-year-old American woman who was taken while engaged in aid work last year. The woman's identity has not been revealed, out of fears for her safety.
In October, Kassig's family released a letter written by him from captivity. He wrote: "I am obviously pretty scared to die but the hardest part is not knowing, wondering, hoping, and wondering if I should even hope at all.
"If I do die, I figure that at least you and I can seek refuge and comfort in knowing that I went out as a result of trying to alleviate suffering and helping those in need."
On Sunday, the Kassig family released a statement regarding the loss of their "treasured son", and asked for the media to respect their privacy.
In his statement, Obama said: "[Isis's] actions represent no faith, least of all the Muslim faith which Abdul-Rahman adopted as his own."
Kerry said: "Abdul-Rahman Kassig, also known to us as Peter, was a young American who personified the values of altruism and compassion which are the very essence of his adopted religion of Islam."
Earlier in the day, the Council on American-Islamic Relations condemned the "barbaric murder" and repudiated "the anti-Islamic ideology that produces such brutality".
d autumn 2013. Photograph: Handout/AFP/Getty Images