It is time     You Must Repent     It is time  
Be patient let the page load correctly.
It is worth the wait & will work correctly"
1st page click here.
My sites
Latest  God's Traits also Israel, Hamas, also Dying, Death also Democracy
also Transform Your Mind also 2nd copy Israel Crisis  also Jews did not and still do not obey God..  also Heaven a place you live
Also  Gaza needs the worlds help.
………………………..
My Business, www.gleninnesindex.com   also Personal Web Site
Look at To Save the World . Knowledge and Universe  Web Site . Religious web Site www.youmustrepent.com . Manuscript Bible Revelation. www.revelationyoucanunderstand.com . Will you listen?  New page about saving world again.  Have a read here

Original 1st page click here. Let it load when you visit a lot on it
Gaza needs the world's help
The Gaza strip is now unlivable. For the sake of humanity, the international community must require Israel to end this disaster
Sami Abdel-Shafi

in Gaza City  it appears to me that Same Abdel-Shafi has hope a false future the West offer. Where the West, Europe, England, America, Australia and other countries has interfered has let to chaos. Have a look.
Iraq is imploding.
Libya is imploding.
Afghanistan in danger of imploding.
Syria has imploded.
Ukraine is pocking its nose in to help and the West should learn by its mistakes
  UN chief Ban Ki-moon tells Israel to 'end this madness' after bombardment kills at least 10 people and injures dozens. It appears the UN is also pointing bone to Israel, but what about the 150,000 people died in Syria and the millions displace.
The problem is not Israel the problem is Hamas has said Israel has no right to exist. If they had the ability Hamas would wipe out Israel the same as Iran has said.
Hamas made promises and broken every time and blaming Israel.
Hamas its Terrorists refuse to not stop sending rockets into Israel. This one point is so serious it is no wonder Israel has finally said we are going to sort out the problem.
And the West's have stopped Israel time and time and the only way to sort things out is what Israel has done and is doing.
So the answer is not for the World to help. The world countries have made a mess in their push for Democracy when what is needed is stronger leadership. Israel Government is a strong Government and I think they are doing the right thing.
Articles below you can read  and my stance is as a Christian as a servant of the living God.
And I know God is all about Pure, Peace, Gentle, Mercy, Open to Reason,  Kindness, Compassion, No uncertainty, No insincerity and that is what God wants all people to do immediately  and to stop killing immediately.
Will people listen to God. The answer we know.
No!
So Israel is now forced to fight for their own survival. If Israel was weak we know they will be destroyed.
………………………….
Truce, Israel, Hamas, Palestinians, so we hope.
go to my site www.youmustrepent.com. The truce with Israel, Hamas, Palestinians is good news and the question is whether it is going to remain in place permanently. Is this Truce from the heart or from the mouth that is no true truce really if from the mouth no true intention. God would say ok you have a fresh start now forget the past and for each have a new beginning and build a prosperous future with each other in peace. I wonder.
Truce, Israel, Hamas, Palestinians, God, Fresh, Start, Prosperous, together, Jesus, Christ, Permanently, Bible, Peace.
Video below 4 minutes only
………………………..
…………………………
Top Video below
To save any confusion I have put a couple minute Video up first to explain myself.
If you like the Prime Minister of Israel thanks American for the technology they have given us and particular the ability to intercept rockets where the Terrorists have sent rockets to the urban areas but have been shot down. So Israel has had a lot of help and has the ability to defend itself against its enemies
So the purpose here is to make my point the West has its own problems and the West  also are hated by many countries, particularly the Americans. I think the greatest make the West has made with its push to try to convince the Arab World to embrace Democracy and I have a video that discuss's the issue.
The West, Americans cannot help Israel because Israel has a nation only exists is that God brought Israel into existence and Israel is in rebellion with the living God. The Arab world are also in rebellion to the living God.
People are talking about how to sort out the problem with Israel, Hamas, Palestinians but are missing the real issue .
Seeing all parties are not listening to the living God they are all doing their best but are not addressing the real issue which is that they are not living to the living God and the answer to all their problems is to listen to God and to do what God tells you to do.
So the blind are helping the blind and they are all falling into the ditch together.
As I have said in the past the whole world except the Christians are not listening to God and I am not talking about the institutional Christians but the true Christians who have come to the Cross, had their sins forgiven and are in the Kingdom of God.
So is there a secret?
Yes?
Listen to God and live the way God, Jesus wants you, us, others to  live
Pure, Peaceable, Gentle, Open to Reason. Full of Mercy. Goodness, No Uncertainty, No, Insincerity. Kindness, Compassion.
I know you will say, this is rubbish.
If you do not change your way of living you are in fact taking away the future for your future children.
www.revelationyoucanunderstand.com .
It makes you wonder, why it is so hard to be nice.
Cheers, Hendrik a friend a Deepwater Man.
Source

http://www.theguardian.com/commentisfree/2014/jul/31/gaza-needs-world-help
Gaza needs the world's help
The Gaza strip is now unlivable. For the sake of humanity, the international community must require Israel to end this disaster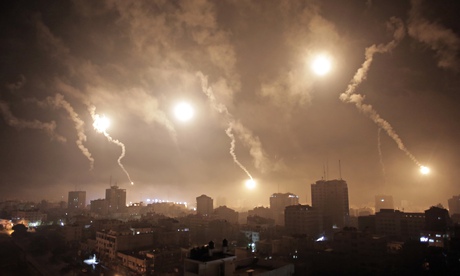 To continue to witness children being killed and orphaned, entire families being obliterated and entire neighbourhoods levelled, is beginning to seem physically impossible. No one should have to bear this burden. And yet we in Gaza are being forced to do so. Even those who have sought refuge in apparently protected spaces – such as schools run by the UN – have fallen victim.Against this backdrop, it is difficult to comprehend how the international community seems unable to halt what is no longer just a war in Gaza but an apocalypse for its citizens. The Gaza Strip is now unlivable. Hundreds of thousands of people who lived close to the perimeter of the territory have been pushed towards its centre. One of the most densely populated districts in the world has not only shrunk but become more dense. Since Gaza's only electricity generation station was targeted, severe shortages in water and now bread have been exacerbated.The government of Israel does not seem interested in a ceasefire pact. As recent history amply demonstrates, the ideal next step in Israel's eyes would be a conclusion of this war without having to engage in any kind of binding agreements with Gaza. It has extended the conflict by making any cessation of hostilities dependent on the destruction of tunnels which lead into Israel, a condition it did not state at the outset. Putting aside the question of whether it was legitimate for Palestinians to dig those tunnels, Israel should not be allowed to cripple prospects for a ceasefire with a requirement that even it has acknowledged will be difficult to achieve.And what is surely not acceptable any longer is Israel's continued denial of the reasons those tunnels were resorted to in the first place. Its refusal to address the issue of Gaza as a political question and not as a military one is part of the problem, and the reason for so many civilian deaths.
An explicit recognition by the international community that the conditions civilians are enduring in Gaza are insupportable would boost the prospect of a credible ceasefire. Palestinians would take such recognition as a clear gesture of fairness and goodwill from the world. But, if some aspects of Gaza's troubles are recognised while others are sidelined – such as the need for a longer term solution – the feeling that the world is still unwilling to appreciate our plight will only be deepened.
Global support and recognition would create space for Palestinians to trust a ceasefire that not only silences the guns but which also recognises the legitimacy of Gaza's rights. To state the case unmistakably, these are the rights to economic development; free movement and access; an acknowledgment of the inseparability of Gaza and the West Bank and, critically, a commitment to shield ordinary people from the effects of political strife. The active participation of the US, EU and UN as partners and guarantors of an agreement and as empowered monitors of any breaches in its implementation, would be essential. Gaza will also need an immediate and a massive rescue plan, financed and resourced by the Arab world. The people of Gaza must then be given an unimpeded opportunity to develop their own economy and to begin to rely on their own resources.
In short, the international community's inability to require Israel to end the disaster must change. The case for this is no longer one of politics or military strategy. It is an urgent humanitarian one. It would not be anti-Israel to take these steps. Rather, it would be pro-global: a move to protect human ideals which may one day triumph in genuine resolution and lasting peace.
……..
Source
http://www.theguardian.com/commentisfree/
………………………..
Outrage after third Israeli strike on a United Nations school in Gaza
UN chief Ban Ki-moon tells Israel to 'end this madness' after bombardment kills at least 10 people and injures dozens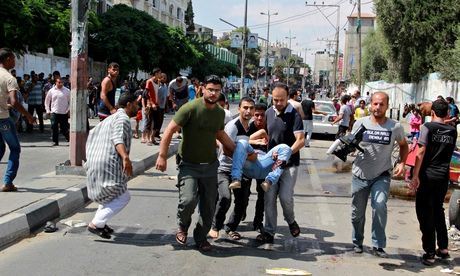 A third deadly attack on a United Nations school sheltering people fleeing bombardment in Gaza was strongly condemned by both the UN and the US on Sunday, with UN chief, Ban Ki-moon, calling it a "moral outrage and a criminal act" and pleading for an end to "this madness".The US said it was appalled by the "disgraceful" attack, which killed at least 10 people and injured dozens just days after the shelling of two other UN schools in Gaza caused international shock and anger.A hospital near the site of the attack, in the southern town of Rafah, was overwhelmed with the dead and injured. Children's bodies were stored in an ice-cream freezer as the morgue ran out of room.It was, said Ban, "yet another gross violation of international humanitarian law, which clearly requires protection by both parties of Palestinian civilians, UN staff and UN premises, among other civilian facilities". He called for a swift investigation, saying "those responsible [must be] held accountable. It is a moral outrage and a criminal act."
The Israel Defence Forces (IDF) had been "repeatedly informed of the location of these sites", Ban added.
In an unusually severe statement, the US state department called on Israel to do "more to meet its own standards and avoid civilian casualties".
The Israeli military was investigating the incident, said a spokesman, but preliminary inquiries had shown that its forces were "targeting a number of terrorists on a motorbike near the school, and we did identify a successful hit on a motorbike. We do not target schools. We certainly do not target civilians. We are still reviewing the incident."
The attack came as Israeli forces began withdrawing most troops from Gaza in what the military described as a "new phase" in the 28-day conflict. Air strikes and shelling continued alongside the troop redeployment and Hamas continued to launch rockets at Israel.
"The troops are in the midst of a redeployment to other parts of the border," said IDF spokesman Lt-Col Peter Lerner. "We are releasing troops from the frontline but the mission is ongoing. Ground forces are operating. Air forces are operating."
Troops were "extremely close" to completing a mission to destroy Hamas's network of attack tunnels, he said. The IDF had "a rapid reaction force on the ground that can engage Hamas if required".
Residents of some areas of Gaza, who had been warned to evacuate, were told they could return to their homes. The IDF has dropped leaflets in parts of Gaza telling residents to "tell your hidden leaders the battle is over" and that "all members and leaders of Hamas and other terrorist movements are unsafe".
Residents, who reported limited shelling overnight in the northern areas, were reluctant to return to their homes following the breakdown of previous ceasefires.
Israeli analysts said that Israel was effecting a unilateral winding down of the military operation rather than engage in truce negotiations with Hamas. Yossi Melman, a respected commentator, wrote in Ma'ariv: "After 27 days of fighting and 63 IDF soldiers killed—the war is over … It is a unilateral political decision that is based on a military assessment. The IDF will deploy along defensive lines in a security zone inside the Gaza Strip and, at the same time, will reduce the number of troops and redeploy many of them in staging grounds inside Israel.".
The Israeli defence ministry said on Sunday night that Israel would hold a truce in most of Gaza for seven hours on Monday for humanitarian aid and to allow displaced Palestinians to return to their homes, but would fight back if attacked.
The humanitarian truce, beginning at 10am (0700 GMT), would not apply in areas of Rafah, the ministry said, because Israeli forces are remaining on the ground in and around the southern Gaza town to destroy a cross-border tunnel.
But the international community is likely to be alarmed at Israel bypassing negotiations. Political leaders and senior diplomats have repeatedly stressed that the two sides must address and resolve underlying issues that led to the current conflict to break the cycle of violence.
Efforts to forge a truce resumed in Cairo on Sunday, with Middle East envoy Tony Blair and US special envoy Frank Lowenstein flying in, along with a Palestinian delegation which included representatives of Hamas and Islamic Jihad, the main militant groups in Gaza.
Israel declined to send a team to join the talks, , an indication that it wants to proceed on its own terms, diminishing prospects for an early breakthrough.
Among demands tabled by the Palestinians were an end to the blockade of Gaza, extending the permitted fishing zone at sea and the removal of the no-go buffer zone inside the border, as well as the rehabilitation of Gaza, emergency aid and a release of prisoners.
As diplomats prepared for talks in Cairo, the funeral took place of Hadar Goldin, a 23-year-old soldier whom Israel originally said had been captured by Hamas during an attack near Rafah on Friday. Hamas denied it was holding the soldier. Israel retaliated for the attack – in which two other soldiers were killed – with massive bombardment of the area.
In a statement issued on Saturday night, the IDF said Goldin had been killed in battle, bringing the number of soldiers killed to 64. It also confirmed he was related to the defence minister, Moshe Ya'alon.
Sami Abu Zuhri, Hamas's spokesman in Gaza, told reporters: "Israel tricked and deceived the world when it claimed a soldier had been abducted and then admitted that he had actually been killed in battle in Rafah. It did this only in order to breach the 72-hour ceasefire agreed upon with the UN and the US, in order to commit massacre in Rafah."
Praising the soldier as a "great hero", the Israeli prime minister, Binyamin Netanyahu, told Goldin's parents: "I hope that you will find consolation in the fact that he fell to uphold the people of Israel in the struggle for our independence."
The UN warned of a rapidly unfolding health disaster in Gaza, with overwhelmed medical services on the verge of collapse. It said a third of hospitals, 14 primary healthcare clinics and 29 ambulances had been damaged in the fighting, at least five medical staff had been killed on duty and more than 40% of medical staff were unable to get to places of work.
Critical supplies of medicines and other supplies were almost depleted and damage and destruction of power supplies had left hospitals dependent on unreliable generators.
The Palestinian death toll passed 1,750, 80% of whom are civilians, according to UN estimates. About 460,000 people have been displaced since the start of the conflict.
The UN said many were "now living in overcrowded conditions in schools, with relatives or in makeshift shelters. This, coupled with lack of inadequate water and sanitation, poses serious risks of outbreak of waterborne and communicable diseases."
Meanwhile, a statement signed by the EU and European commission presidents on behalf of 28 member states has called on Israel and Hamas to "immediately stop" hostilities and condemned the loss of life.
"The bloodshed needs to stop. We deplore the terrible loss of lives, including innocent women and children," it said, saying Gaza residents were suffering "intolerable violence". It also called the continued rocket fire by Hamas "an unacceptable threat" to Israeli citizens.